Produzido pela Nordic Noise, a segunda edição do festival dinamarquês acontecerá nos dias 13 e 27 de agosto no Amager Bio, em Copenhague, com bandas locais de diferentes gêneros como Black, Power, Doom, Death, Folk Metal e Metal Alternativo.
A primeira edição que ocorreu em junho teve número limitado de lugares à venda e público sentado, já a segunda edição pretende ser mais dentro da normalidade, na medida do possível.
Vale ressaltar que a mistura de estilos num mesmo evento já é tendencia na Europa e vem fortalecendo a cena local e do metal como um todo com muito respeito, educação e Metal na cabeça!
Sexta, 13 de agosto: DENIAL OF GOD – HORNED ALMIGHTY – ÆTTIR – TBA
Sexta, 27 de agosto: IRON FIRE – FOREVER STILL – SHADOWSPAWN – TROLD
Ingressos à venda online no site da Billetto pelo valor equivalente a R$162,75 para apenas uma noite ou R$244,53 para as duas. Lembrando que quem compra ingresso antecipado para o Nordic Noise 2022 já leva esse de brinde enquanto durar o estoque.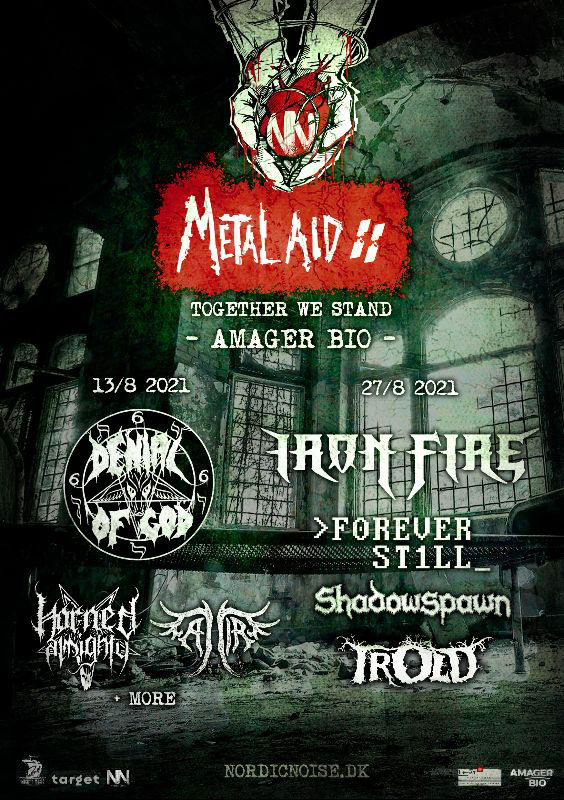 Produced by Nordic Noise, the second edition of the Danish festival will take place on August 13th and 27th at Amager Bio, Copenhagen, with local bands from different Metal genres. Tickets are available online on the Billetto website and, anyone who buys a ticket for Nordic Noise 2022, may get this one for free while the stock lasts.
Concert lineup goes as follows:
August 13th: DENIAL OF GOD – HORNED ALMIGHTY – ÆTTIR – TBA
Augist 27th: IRON FIRE – FOREVER STILL – SHADOWSPAWN – TROLD